PAYMENT METHODS
Safe payment is 100% our priority! Gijjuosh uses Mollie's secure payment system.
Gijjuosh.com offers several methods of payment: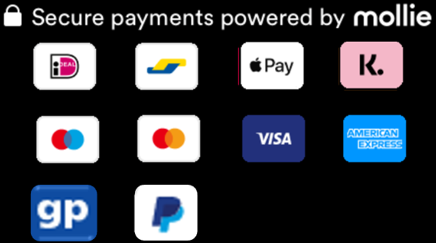 iDeal
You can use this to pay if you have access to internet banking at almost all Dutch banks. Easy and safe in your own trusted banking environment!
Bancontact
Trusted payment method among our Belgian customers.
Apple Pay
Available for all Apple users in more than 35 countries.
Klarna Pay later
With Klarna: Pay later you have 14 days to pay after you have received the product. Gijjuosh charges a fee of €1,50 for each Klarna:pay later transaction. How does it work?
In the checkout the customer selects 'Klarna: Pay later' as their payment method.
The customer fills out only "top of mind"-information and completes the checkout.
Customers using Klarna for the first time fill out their email address and date of birth.
Returning customers can also be asked to fill out their phone number and date of birth.
After submitting the order, the customer will get an email with a payment link.
Using the link, the customer can pay with their preferred payment method through the Klarna consumer portal on klarna.com or in the Klarna app.
Creditcard
GIJJUOSH accepts the following creditcards:
American Express
Maestro
Mastercard
Visa
Giropay
Trusted payment method among our German customers.
Paypal
With PayPal you can quickly and easily transfer money online. To pay with PayPal you need an account with PayPal. If you want more information about PayPal, please visit the PayPal website.
Have you received a discount code or online shopping credit? You can use this when finishing your order. Enter your code when ordering and the amount will be automatically deducted.
FEEL FREE TO CONTACT US IF YOU HAVE ANY QUESTIONS!